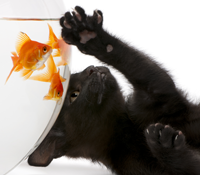 While there truly is a science to business consulting it can be as simple as taking a look at what is going on from outside the fish bowl; looking in!
Lets face it, NO ONE wants to hear that they are wrong! No one wants to hear that their business, the one they built from the ground up is broken or not working! After all, you have seen success! It worked before, so what is happening now? You are doing all the things that you used to, and yet something has changed!
The answer is right in front of you, you simply can't see it... Why? Because you and your focus are much to close to the business at hand to see the obvious right in front of your nose!

So what is going on? The bottom line is that it is ALWAYS about the "Bottom Line"! What we are here to do is help you see what is going on, and increase YOUR bottom line! Why choose us? and by the way... Just exactly who is "US"? In time.
First of all you should know, the first part of business consulting is learning about your business. When a client has determined that they may be willing to listen to an opinion from an outside party, the VERY NEXT issue is: "I don't want to give away any information about my business to an outsider! So as a course of business, we sign a confidentiality agreement. Like wise, our group of consultants and advisors are also confidential. That is... except Me. I guess the CAT is out of the bag! So what I bring to the party is the background alreay supplied in this website. Additionally, I have put together a group of people who are experts in various business aspects who work together in a "Think Tank" type of capacity.
.