While Tuscany Custom Homes and Remodeling was "officially" formed in 1993, it actually started well before that.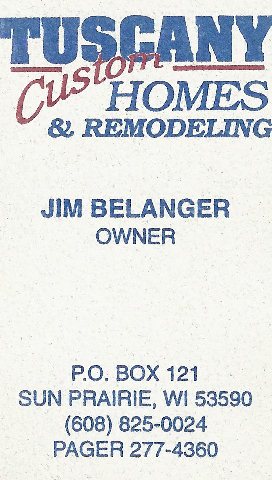 I began mycareer in Real Estate in 1986, and worked for a company that was a "Production Builder". I started a note book with everything I saw that I liked that they did on one side, and everything I would change if I was the "Boss". over the next several years, I represented 8 other builders as a Realtor, and kept the same book going. I used this book as a guide making sure to include all of the good features of the 9 builders I represented, and using all of the "How I would do it" as a tool, learning from their experiences.
I formed Tuscany Custom Homes and Remodeling in 1993 with a partner. Tuscany was our "New Home" division of our construction firm. I am often asked, How did you come up with the name Tuscany? keep in mind, the name was rarely heard of back then, as this pre-dates the "Under the Tuscan Sun" book and movie, or even the Tuscan Feast at Olive Gardens. Some may think that the name came from the my Italian herritage. Nope... I am not Italian! Maybe it came from Italian arcitecture? Guess again! How about the romantic villas vistas scattered through out the scenic Italian hillsides?... not exactly. When we were trying to choose a name, we through many in a hat, and Tuscany happened to be the cologn I was wearing. I really hated the name Tuscany, but I couldn't get it out of my head, so that made it the clear choice! Good thing I didn't throw the name of the shampoo I used at the time as a choice!
As a couple of years went on, We had built many fantastic homes, always keeping quality, craftsmanship and service as our guidline. In 1997, my partner and I had simply had different directions we wanted to persue, with mine being building Custom Homes, and the partnership disolved with me taking Tuscany Custom Homes. My old partner and I have maintained a friendship, that exists today.
Over the next several years, the company rocketed and in a blink of an eye, we were building between 20 and 40 homes per year and growing!